Registration
Opens September 6th
Swim Program Information
We offer Lifesaving Society learn to swim and advanced leadership programs.
Classes range between 30–45 minutes in duration and run once a week for 8–10 weeks.
Classes are offered during the evening Monday-Friday and during the day on Saturday.
Class schedules and registration forms will be available prior to the beginning of each session.
Times and dates of classes may vary between sessions. BGCH reserves the right to cancel/combine/change class days and/or times.
Registrations and requests to switch lesson days or times will be accommodated, when possible, prior to the 3rd lesson of each session. No changes will be made after the 3rd class.
There will be no make-up classes due to cancellations for maintenance, weather or other reasons.
Children not toilet trained must wear a water-proof diaper underneath their swim suit. No regular diapers are allowed in the pool.
Participants with long hair are encouraged to tie their hair back during swimming classes.
Pool viewing area is available for families watching swim lessons.
NEW SWIM ADMISSION STANDARDS
0-6 years old – Must be directly supervised (within arm's reach) of someone 13+ years at all times (2:1 ratio)
7-9 years old – May swim alone if they pass the swim test. If swim test incomplete, must be directly supervised (within arm's reach) of someone 13+ at all times (2:1 ratio)
10+ years old – May swim alone
13+ years old – May supervise other swimmers
Deep End Swimmers – All swimmers must pass the swim test to enter the deep end, regardless of floatation devices or supervision. Swimmers of any age may be asked to complete the swim test at the discretion of the lifeguards.
SWIM TEST
To pass the swim test, individuals must comfortably perform a recognizable stroke on their front for two widths of the pool (15 metres) without stopping or putting their feet on the bottom of the pool.
​Upon successful completion of the Swim Test, children ages 7-12 will have the information updated on their Boys and Girls Club account. When returning to the Club to swim, they may let the front desk staff know that they require a green wristband so that they may swim on their own. Even after passing the Swim Test, children may be asked at any time to complete a Swim Test under the discretion of the Aquatics Staff.
WRISTBAND POLICY
Wristbands are to be put on at the front desk prior to entering the pool deck. Swimmers who have completed the Swim Test and have evidence of this on their account will be given a green wristband upon request. Without wearing the green wristband prior to entering the deck, the member will be required to complete the Swim Test again.
​Children who are 0-6 years or 7-9 years of age and have not passed the swim test must remain in the shallow end and be supervised by someone 13+ years. Swimmers 13+ are not required to wear a wristband, but may be asked at any time to complete a Swim Test under the discretion of the Aquatics Staff.
WHY THE CHANGE?
​As of July 1, 2018 Regulation 565: PUBLIC POOLS states: 'Every owner and every operator of a Class A pool shall ensure that there is a process in place to ensure a guardian or designated person supervises children under 10 years of age. The process must include a swimming competency test and a method of communicating the requirements of the process.' REG. 565.17.21 At BGC Hamilton-Halton, we want to ensure that all our members have an enjoyable experience while also staying safe! In order for this to happen, admission standards have been revised with support from the Lifesaving Society. If you have any questions about the new admission standards, please speak with the Aquatics Supervisor, Heather.
Parent & Tot
Parents spend quality time with their child while having fun learning and socializing with others. Through structured in-water interaction between parent and child, our Parent & Tot Program stresses the importance of play in developing water- positive attitudes and skills. We provide Water Smart® tips on keeping children safe in any aquatic setting.
30 minutes/week
Cost: $18.00/session
Preschool Lessons
The Preschool Program gives children a head start on learning to swim. Preschool levels develop an appreciation and healthy respect for the water before these kids get in too deep. In five Preschool levels, we work to ensure 3 to 5 year old become comfortable in the water and have fun acquiring and developing a foundation of water skills. We incorporate Water Smart® education in each level.
30 minutes/week
Cost: $18.00/session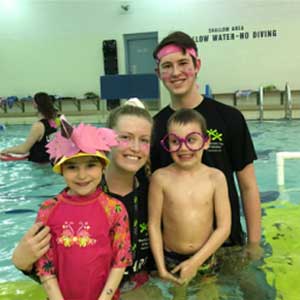 Children's Lessons
​The Swim For Life Program makes sure children learn how to swim before they get in too deep. Swimmer progressions accommodate 5 to 12 year olds including absolute beginners as well as swimmers who want to build on the basics. We stress lots of in-water practice to develop solid swimming strokes and skills. We incorporate Water Smart® education in all 9 levels.
Levels 1-3; 30 minutes/week.
Levels 4-9; 45 minutes/week.
Fee: $18.00/session
Tidal Waves
Tidal Waves is a volunteer organization run by students at McMaster University. We provide affordable (usually free of cost) swimming lessons to those with a range of physical and intellectual disabilities in a safe and fun environment. Each swimmer who is part of the program is assigned with a personal instructor, qualified as a Nationally Certified Lifeguard. Over a course of a session the instructor will help the adult achieve their swimming goals.
​
For more information please visit the Tidal Waves website.
Bronze Medallion
Bronze Medallion teaches an understanding of the lifesaving principles embodied in the four components of water rescue education – judgment, knowledge, skill, and fitness.
3 hours/week.​
Bronze Star
​Is the pre-Bronze Medallion training standard and excellent preparation for success in Bronze Medallion. Participants develop problem-solving and decision making skills as individuals and with partners.
1 hour/week.
Bronze Cross
Is designed for lifesavers who want the challenge of more advanced training including an introduction to safe supervision in aquatic facilities.
3 hours/week.
Junior Lifeguard Club
Offers serious fun for kids 8 years and up who can swim at least 25m and tread water for 2 minutes. The Jr. Lifeguard Club provides an action-packed challenge for kids who love the water but who want more than "lessons." The Jr. Lifeguard Club is for quick learners and those between levels or programs who thrive in an energetic learning environment.
1 hour/week.
National Lifeguard Certification
This program develops a good understanding of lifeguard principles, good judgement, and a mature and responsible attitude towards the lifeguard's role. The program is designed for lifesavers who wish to obtain a responsible job and leadership experience. 100% attendance and participation is required. 40 hour course. Candidates must be at least 16 years old with Bronze Cross, Standard First Aid, and CPR level C.
Standard First Aid with CPR-C & AED
Provides training covering all aspects of first aid and CPR. It is designed for those who require a more in-depth understanding of first aid including: medical/legal aspects of first aid treatment, spinal injuries, heat or cold injuries, bone and joint injuries, abdominal and chest injuries, burns and medical emergencies. Includes CPR-C certification and Automated External Defibrillation (AED). Recognized by Ontario's Workplace Safety & Insurance Board.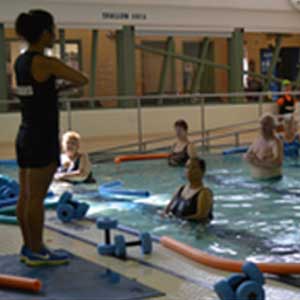 Adult AquaFit
​Adult AquaFit is designed for non-swimmers and swimmers alike. This is a challenging full body workout with little to no impact on joints. Participants will work on stretching and flexibility, cardio, strength and core exercises in each class.
60 minutes/class
Cost: $30.00 + hst/10 lessons